Trademarks 101 for your Music Brand
You've likely landed on this article because you have created a brand for your music worth protecting. Congratulations on your endeavors to start something magical!  
Maintaining a sense of individuality that distinguishes you from others is crucial. As you grow as an artist, your band or artist name only becomes more popular, sometimes even more recognizable than your music. It is fundamental to put an effective intellectual property protection plan in place to secure your music brand. Whether you're just starting as an artist, performing in local bars, or have begun touring across the globe, it is crucial not to overlook trademarking your artist name and potentially logo, among other aspects of your brand. 
Would you get married without a contract? Maybe. It would be what we call a calculated risk, but you also have to consider that there are feelings involved. With a music band, it's an economic venture, one where emotions also play a part in the mix. When business is mixed with pleasure, if you neglect the importance of preventing what's at stake if all comes crashing down, it can end poorly for everyone. 
In essence, artists are entrepreneurs. You are creating the foundation for a business you hope to blossom into something big one day, and as a result, put tons of time and effort into making growth and expansion possible. Entrepreneurs wouldn't spend time, brain power, or money on their business if they didn't see its potential. In fact, they would protect their business at all costs because they recognize its value, and that's precisely what you need to do as an artist if you value your music and music brand. 
Time is of the essence when it comes to securing your business ventures, and as a musician, your brand and all that it encompasses are part of your business. The safest bet is to trademark your music brand right away rather than risk losing something you've poured your blood, sweat, and tears into. Of course, part of being in a band is the fun, fame, fans, and experiences that come with it. But if you plan to make a profession out of your artistry, you must take care of all the legalities and proper documentation.
Ask yourself why you even have a name if it's not essential? Why did your band form? What's at stake if you don't protect yourself? 
The Why
Copyright protection is essential for artists and labels. It protects lyrics, melodies, arrangements, recordings, performances, etc. Copyright protects works of art. If you protect your art, why not protect your name? 
Aside from the obvious protection that copyrighting provides, with trademarks, you will receive protection that states no one can steal your music or name; you'll also protect the right to tour under your band name. In other words, your artist name is a precious asset. As long as your name and logo are appropriately trademarked, no one can claim it as their own or go on tour with said name. Trademarking makes it easier for you to get recognized in a sea of sameness and find a way to make a profit off your distinguished identity. 
Very little is paid to musicians in terms of copyright and royalties. To make money touring, you need to make sure you can make music under that name. Not only that, but merchandise associated with your music brand name and logo can be profitable. In fact, selling 1 T-shirt is equivalent to earning money from 5k streams on Spotify. Band merch keeps artists financially afloat, and loyal fans see its value. If you trademark your brand name, others legally could not profit off your logo and brand name on merch unless specifically sold or stated by you. 
These are just a few layers of trademarking your music brand. So, where do you go from here?
Getting Started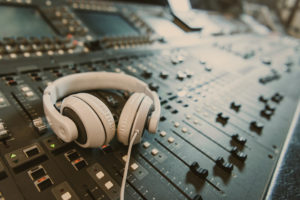 Before you get knees deep in research on how to trademark your brand, you must not skip the first order of business, which is confirming whether you are legally entitled to trademark your name. Search via the Trademark Electronic Search System (Tess) for your name and the Word and Design Mark Search for symbols to determine if your name and/or logo has already been claimed. If you find that the name you settled on has already been trademarked, it's time to go back to the drawing board and come up with a new option that isn't already taken. The same goes for the logo.
It's best to be sure you aren't spending even a day building a brand you can't own, so start with a trademark search. Once you have discovered whether your artist name is in the clear to the trademark, there are a few things you want to get clear on before moving forward.
Things to Consider
There are many things to consider when planning to trademark your music brand. Here are a few to get the juices flowing.
One of the critical decisions you have to make is what you want your trademark application to cover? Everything else is icing on the cake. Look into the common trademark categories related to the entertainment industry when you trademark your business. 

When you file for which products and services you want to register, usually you will be Class 41–entertainment services. Sure, this is what you offer primarily, but there might be other things which you wish to include, such as downloadable music, which is class 9, swag and clothing, which is class 25, and other merch might go into another category. It would help if you thought about what merch you may want to sell someday, if not currently doing so. Some lyrics can even be trademarks.

Ask yourself: Which class should I go for when you file your trademark application?

The bigger the band, the more trademarks you want to cover. Renowned bands such as Metallica and Nirvana are trademarked in many countries.

Start with your area first (start with your most valuable markets, aka home country, and where you think you will sell more tickets. If you are playing at local bars and venues, you don't need to trademark in other countries, but as you grow and where you think you would tour, it is essential to think about

Ask yourself: Where do I plan to play? 

Logos and names can change over time

Ask yourself: Is this a name and logo I'm committed to? Do I see myself wanting to change this anytime soon?

It is necessary to discuss who ownership of the name and logo of your bands brand

Members will come, go, die, etc.  If the band breaks up or someone leaves, it begs the question of who will carry on the name or own the rights to use it. Contractual issues must be discussed and resolved early on if your band separates or people decide to go their separate ways. Trademarking can help limit discontentment and problems that could arise due to shared ownership over the band brand.  Ownership can be split equally for each band member or just one or two, depending on the agreement settled between you and your bandmates. Trademark ownership can put you in a pickle if not done early on, so if you're more than a one-man act, don't skip this vital step.

Ask yourself: Who should own the trademark? 

A proper description that accurately describes what you do/what you will offer helps set you aside from your counterparts

Ask yourself: How do I/We want to be known? What distinguishes us from the crowd?
How to Trademark Your Music Artist Name
Do a proper trademark search via the Trademark search engine to ensure your artist or band name is available.

Come up with a description that accurately represents your brand and overall image/brand.

Discover which categories might be relevant to you now or in the future in terms of trademark classes

Draft trademark application and submit it to the U.S. Patent and Trademark Office (USPTO)

Apply and wait. Depending on your geographic location, the wait could be 2-3 months to 12-13 months.

In over half of all cases, you'll get an office action in which the trademark office tells you what they don't like about your application. You must deal with these problems properly. Otherwise, your trademark application will be rejected. If it is opposed, you have to fight the trademark office.

Once your formal application is accepted as "complete," you'll work directly with your examiner, as well as attorney or agent, to ensure that it is approved

Should your assigned examiner decide that your application meets all requirements, you will receive a "Notice of Allowance." 

This document will list the issue fee and potentially a publication fee. To use your trademark, you must pay these fees in advance. Your patent grant will be mailed to you on the date your patent is issued. You can also order certified documents with the USPTO ribbon and seal and signature to keep with you.

Prepare to pay maintenance fees to maintain your trademark as years go by
Now you can do all this without guaranteeing your trademark will be accepted, or you can leave the work to the professionals. 
Why Trademark Factory
The world is your oyster, and you have the power to decide how you want to go about trademarking your music brand. You could go through the lengthy and arduous process of trademarking, but nearly 70% of trademark applications are denied and need to be modified to be approved. Should your application be approved, the process can also take a year or even longer. You could find a quick and easy online service and pay someone to do the work for you, but there is no guarantee your trademark will be approved, and you could end up burning a bunch of money if it doesn't.
At Trademark Factory, we are dedicated to helping our clients–entrepreneurs with a go-getter mentality–achieve their dreams and protect their valuable assets. We run a comprehensive trademark search for our clients and do all the work for you for one flat fee. This flat fee covers everything. If your trademark doesn't get approved in the end, even after several attempts to push it through, we will give you 100% of your money-back guarantee–which you won't find anywhere else. We believe in our mission and our abilities so strongly that we are confident we can help, but if, for whatever reason, we can't, we won't burn your wallet if we don't deliver the results. A promise is a promise.
Remember, you should consider trademarking your music brand because you believe you are building something of value–in this case, your music brand. Brands and logos are critical assets that you should guard no matter the price, especially if you hope to grow and scale your business. 
If you're ready to take the leap and properly trademark the name and logo for your music brand, we are happy to help you get things moving with ease. Give us a call or book a consultation with one of our experts today.
CTA